About Tri-County Electric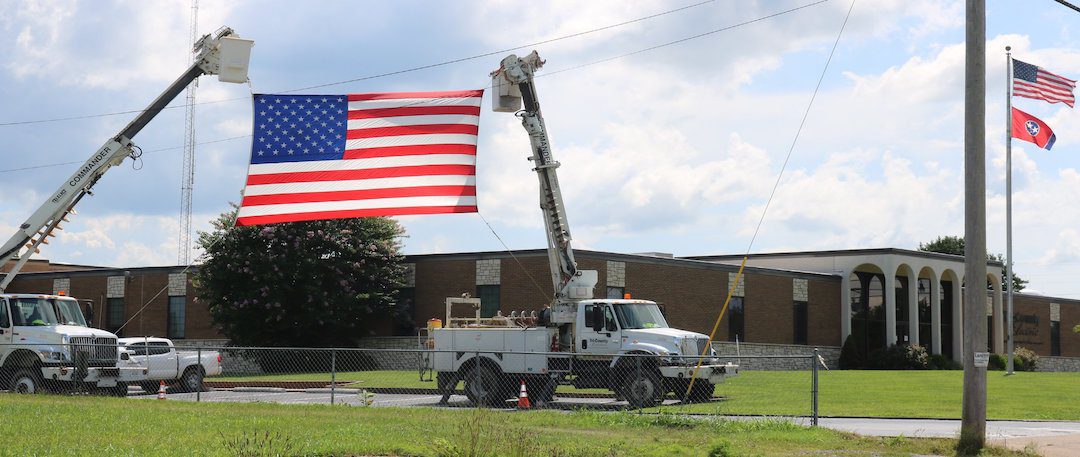 8 Locations
To speak with members of our team at any location call 800.369.2111
Click the office below for directions from your location.
Tri-County Management
Paul Thompson, CEO, pthompson@tcemc.org
Jim Beecham, Director of Engineering & Operations, jbeecham@tcemc.org
Russell Cherry, Manager of Purchasing, rcherry@tcemc.org
Tammy Dixon, Director of External Relations & H.R., tdixon@tcemc.org
Annette Eaton, Customer Service Supervisor, aeaton@tcemc.org
Glenn Hale, Director of Finance and Administration, ghale@tcemc.org
Jozef Kaslikowski, IT & Communications Administrator, jkaslikowski@tcemc.org
Steve Linville, Field Engineer Supervisor, slinville@tcemc.org
Jason Short, Administrator of Fiber Operations, jshort@tcemc.org
Mechelle Woodard, Customer Service Supervisor, mwoodard@tcemc.org
Burkesville District
Sammy Farlee, Operations Superintendent, sfarlee@tcemc.org
Celina District
Phillip Smith, Operations Superintendent, psmith@tcemc.org
Edmonton, Fountain Run, Tompkinsville Districts
Leroy Geralds, Operations Superintendent, lgeralds@tcemc.org
Hartsville, Westmoreland Districts
Blanton Calvert, Operations Superintendent, bcalvert@tcemc.org
Lafayette (Corporate Office), Red Boiling Springs Districts
Marty Blankenship, Operations Superintendent, mblankenship@tcemc.org
Scottsville District
Chris Thomason, Operations Superintendent, cthomason@tcemc.org
Board of Directors
Andy Goad, President
District R (Red Boiling Springs, Tennessee)
Ron Alan Powell, Vice-President
District L (Lafayette, Tennessee)
Mike Miller, Secretary-Treasurer
District S (Scottsville, Kentucky)
Ronald Bailey
District C (Celina, Tennessee)
Travis Carter
District W (Westmoreland, Tennessee)
Bret Carver
District B (Burkesville, Kentucky)
Jeff Downing
District F (Fountain Run, Kentucky)
Kelby Graves
District T (Tompkinsville, Kentucky)
Mark Linkous
District E (Edmonton, Kentucky)
Tommy Thompson
District H (Hartsville, Tennessee)
Greg Traylor, Attorney
Non-Discrimination Statement
Read Our Policy
In accordance with Federal civil rights law and U.S. Department of Agriculture (USDA) civil rights regulations and policies, the USDA, its Agencies, offices, and employees, and institutions participating in or administering USDA programs are prohibited from discriminating based on race, color, national origin, religion, sex, gender identity (including gender expression), sexual orientation, disability, age, marital status, family/parental status, income derived from a public assistance program, political beliefs, or reprisal or retaliation for prior civil rights activity, in any program or activity conducted or funded by USDA (not all bases apply to all programs). Remedies and complaint filing deadlines vary by program or incident. Persons with disabilities who require alternative means of communication for program information (e.g., Braille, large print, audiotape, American Sign Language, etc.) should contact the responsible Agency or USDA's TARGET Center at (202) 720-2600 (voice and TTY) or contact USDA through the Federal Relay Service at (800) 877-8339. Additionally, program information may be made available in languages other than English. To file a program discrimination complaint, complete the USDA Program Discrimination Complaint Form, AD-3027, found online at How to File a Program Discrimination Complaint and at any USDA office or write a letter addressed to USDA and provide in the letter all of the information requested in the form. To request a copy of the complaint form, call (866) 632-9992. Submit your completed form or letter to USDA by: (1) mail: U.S. Department of Agriculture, Office of the Assistant Secretary for Civil Rights, 1400 Independence Avenue, SW, Washington, D.C. 20250-9410; (2) fax: (202) 690-7442; or (3) email: program.intake@usda.gov. Tri-County Electric is an equal opportunity provider and employer.
Tri-County Electric Membership Corporation was organized in 1936.
Here's a little perspective on 1937, the year our members first received electric power…
The President is FDR.
The price of a gallon of gas is 16 cents.
People are avidly reading "Gone With The Wind," published June 30, 1936.
Amelia Earhart disappears in July after taking off from New Guinea.
Daffy Duck is introduced to the world in the film short "Porky's Duck Hunt."
The Hindenburg explodes on May 6.
Ray Ban sunglasses are made available to the public having been introduced the year before for the U.S. Air Force pilots.
The Golden Gate Bridge opens May 28.
Massengill Pharmaceutical introduces a deadly raspberry-flavored elixir, killing 105 people. It results in the enactment in 1938 of the Food, Drug and Cosmetic Act which remains the basis for the Food and Drug Administration.
A Hormel executive's brother wins $100 for a contest to name SPAM.
Ragu spaghetti sauce is introduced to grocery stores.
Hershey's Chocolate invents the first emergency ration bar at the request of the U.S. Army. The requirements: 4 oz of high energy food, able to resist heat and tasting "a little better" than a potato.
Fred Astaire is crooning "They Can't Take That Away From Me," and Ella Fitzgerald has a hit single, "Goodnight My Love".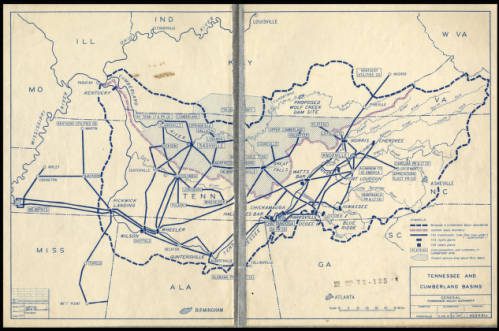 This 1941 map of the Tennessee and Cumberland River Basins shows basin boundaries, TVA transmission lines, TVA hydro plants, TVA steam plants, service areas. Photo courtesy of the Tennessee State Library & Archives.
And in the Tennessee Upper Cumberland at Lafayette, Tennessee, plans were underway for a 1937 Christmas Eve gift that would, for the first time, bring electricity to 85 miles of the community
By 1939, the Tri-County Electric Membership Corporation expanded, purchasing the holdings of the Tennessee Electric Power Company, which included the lines in Celina, Tennessee.
The following year, Tri-County expanded again, purchasing the Cumberland Public Service Company which launched service into Burkesville, Tompkinsville and Edmonton, Kentucky.
By 1942 Tri-County Electric purchased a portion of The Kentucky Tennessee Light and Power Company, adding Scottsville, Kentucky, completing the current service area of today's Tri-County Electric.
In fact, following the first 85 miles of energized lines, Tri-County was serving 7,000 members at the close of its third year of operation.