The Engineering Office of Tri-County Electric Membership Corporation has posted some of the more commonly requested construction specs which can be downloaded and printed to assist builders, contractors and developers in both residential and commercial projects.
These documents provide step-by-step instructions and diagrams to assist with the installation of a variety of common electric construction projects. They are designed to be printed and taken to the jobsite to assist during the installation.
They do not replace your need to work with the Tri-County Electric as you develop your residential or commercial building plans. Copies of all of the construction specs are available at the Tri-County Electric offices if you are have no printing access.
All new construction and renovation projects begin with a phone call to Tri-County Electric Customer Service. The Customer Service Team will connect you with the right Engineers who will facilitate your specific project from start to finish. You can reach Customer Service at 800-369-2111 – Monday through Friday from 8 a.m. until 4:30 p.m.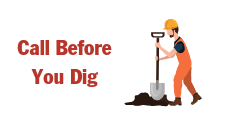 Remember that you must call customer service before you dig – even if your project does not directly involve electrical service. Calling before you dig is the law.
It is specifically designed to keep you from accidentally digging up utility and water lines that may be on the property. This is both a safety issue and an avoidable financial blunder.