Choose the Right Option
As a Membership Corporation, Tri-County Electric is designed to assure that there is a continuing and reliable network of power supplied to each member's home and workplace. A part of maintaining the stability of the Corporation is ensuring that each member has options for how to pay their bill that makes it easier for each household and business.
As members of the Electric Corporation we each recognize that we are stronger when we invest in our future together. Each of us is committed to supporting our network's ability to protect for our collective future that supports economic growth and provides for the safe and carefully maintained power lines that supply our needs each day.
With an elected Board of Directors and a staff dedicated to careful stewardship of every investment, the future of our electricity supply is bright.
We all recognize that this is possible only because each or us, as members of the corporation, is committed to paying our bills each month so that our Corporation is able to continue to provide service.
Explore Your Bill Pay Options
We all know that Electric Bills fluctuate as they always reflect your actual power usage. There are tips on our website for managing your usage to help you manage your bill. We also have a variety of options for making bill pay easier and to help you insure that regardless of your busy schedule, your bill to Tri-County Electric Membership Corporation arrives right on time.
Pick Your Due Date
Everyone's paydays are different. Tri-County Electric is happy to work with our Members to help select a Billing Due Date that helps insure that you have funds to pay your bill on time and to avoid any late fees. Moving the Due Date by a day or two can often help assure that our bill is due after each pay day instead of right before it.
E-Reminder Bill Review
Each Member can get a head's up reminder that your bill is ready by signing up for Bill Review. This means that Tri-County Electric will send you an email to let you know that your bill is ready to review. You can check your bill and be prepared to pay what you owe for the month when the bill arrives.
Bank Draft Billing
When you opt for Bank Draft Billing, we will send you a statement each month so that you know what your usage is and then Tri-County Electric will debit your bank checking OR savings account for the payment. This payment option assures that you are never late in making a payment. There will never be any late fees. You will be aware of your invoice amount but will not have to worry about remembering to send a check. There are no processing fees when members pay with Bank Draft Billing.
Online, Phone & App Payment
Paying your bill online, by phone, or our app is a convenient way to pay your bill. You can set up an account on our website to manage your monthly bill there. Download the app after setting up your online account and you can manage your bill directly thru our app. You can also pay over the phone with a credit card or eCheck by calling 1-800-369-2111. There is a 2.45% processing fee charged when you pay by credit card and $1.00 charge for eCheck. These fees are charged and collected by a third-party processing company Tri-County Electric uses.
Pay In Person
Any member can pay their utility bill in person at any of the 6 office locations in Lafayette, Celina, Hartsville, Westmoreland in Tennessee OR Tompkinsville or Scottsville in Kentucky. Offices are open from 8 a.m. until 4:30 p.m. daily and each has an after hour secure drop box if you need to arrive in the evenings or over the weekend.
Pay by Mail
Members can opt to send payments for your monthly bill via the United States Postal Service. The payment stub along with your check for the full amount due can be sent to Tri-County Electric.
Pre-Pay Program
Some members like to "pay as you go" for electric service. By keeping funds in your account, you can avoid late fees and keep a balance on hand with Tri-County Electric for any months in which you may have a larger usage of electric service. A minimum of a $50 reserve is required for a Pre-Pay account.
Levelized Billing Program
Many members have chosen to avoid the "surprise bill amounts" that happen in the height of electricity usage when temperatures are extremely hot or cold. The Levelized Billing Program allows Tri-County Electric to look at your past year's usage and average it across the next 12 months. That means that the bills that would have been higher due to the extra use of heat or air conditioning will divide out over the lower usage months. What you end up paying each month remains close to the same.
Bill Pay Kiosk
Our Bill Payment Kiosk at the Lafayette and Scottsville offices is a payment option for paying your bill 24/7/365 with cash, card or check! You will need your account number or bill.
PayGo Payment
Tri-County Electric members now have an additional and convenient CASH payment option. We are participating in a program that allows our members to make payments at locations where many of our members shop. Businesses currently participating are, Dollar Store, 7 Eleven, Speedway, Family Dollar, CVS, and Gamestop. Please click
HERE
 for more information on how to enroll in the program.
​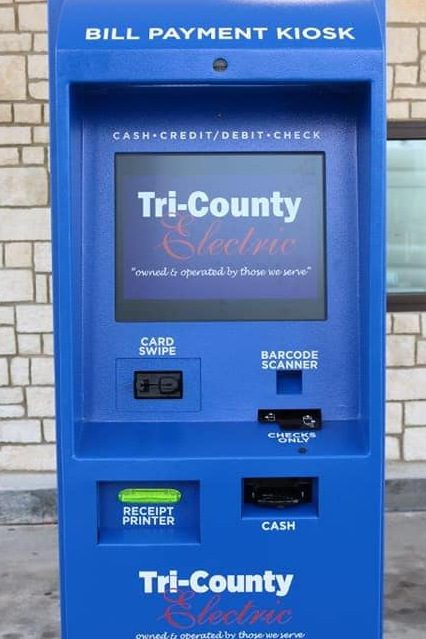 Try Our Bill Pay Kiosk
Our Bill Payment Kiosk at the Lafayette and Scottsville offices is a payment option where you can pay your bill 24/7/365 with cash, card or check. Bring your account number or bill to make the easy transaction.
Sales Tax Exemptions
Tax Exempt customers are required to provide the appropriate form from the Tennessee Department of Revenue or the Kentucky Department of Revenue.
Your exemption form must clearly list the type of exempt status for which your business is entitled. No credits or waivers will be awarded for sales tax exemptions until this documentation has been submitted, and there will be no refunds issued should charges have been generated prior to your business submitting this documentation.
Payment Assistance
If you or someone you know is having trouble paying for electricity, you may call our office for information about assistance.