Tri-County Electric, Lafayette – Two students from Tri-County Electric service area spent a week in the nation's capital as delegates of the 2023 Washington Youth Tour. Bailey Massengille, Red Boiling Springs High School and Anna Grace Blythe, Metcalfe County High School joined 128 other students from across Tennessee on the weeklong trip that began on Friday, June 16.
This annual event is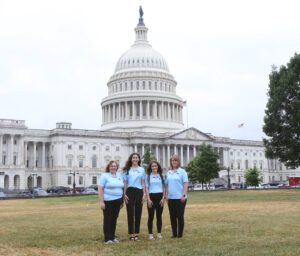 sponsored by Tri-County Electric and the Tennessee Electric Cooperative Association. The students were selected for the trip by writing a short story titled "Co-ops Connect" that explains how co-ops connect our communities with energy, education, broadband, economic development and more.
Lindsay Wilkinson, Marketing Assistant, said "Tri-County Electric is pleased to provide this trip to the students in our communities that we serve. It's a wonderful opportunity for the delegates to learn about our government, the history of our nation, and how cooperatives make our communities better. They meet many other delegates from different states allowing them to expand their social and leadership skills. "
While in Washington, D.C., Tennessee's Youth Tour delegates saw the White House and memorials to past presidents Thomas Jefferson, Abraham Lincoln and Franklin Delano Roosevelt as well as monuments honoring the sacrifices of veterans of World War II and the Vietnam and Korean Wars. During visits to the museums of the Smithsonian Institution, the touring students saw and experienced natural, historical and artistic treasures. Other fun stops included historic homes of former presidents — George Washington's Mount Vernon and Jefferson's Monticello — as well as the National Museum of the Marine Corps, the Washington National Cathedral and a boat cruise down the Potomac River. The group also paid a solemn and sobering visit to Arlington National Cemetery where the delegates laid a wreath at the Tomb of the Unknown Soldier.
Delegates were welcomed to the U.S. Capitol by Senators Marsha Blackburn and Bill Hagerty, as well as other members of the Tennessee congressional delegation. The students had the opportunity to take photos and ask them questions.
While in D.C., winners were announced in the statewide competition for the Robert McCarty Memorial Scholarships for having the overall first, second and third place short stories of the thousands submitted across the state for this year's contest. The scholarships are named in memory of Robert McCarty, an employee of Volunteer Energy Cooperative and longtime chaperone on the annual Youth Tour.
Ernee Webb, a senior from Cumberland Electric Membership Corporation, was awarded a $10,000 Cooperative Youth Ambassador Scholarship. Webb was a 2022 delegate on the Washington Youth Tour. Delegates who remain engaged with their sponsoring cooperative during their senior year and complete certain community service requirements are eligible for the scholarship. Webb's name was randomly selected among the 25 delegates from across the state who completed the requirements.
"We are owned by our members, and it's important that our member-owners understand how that makes us different," said Tri-County Electric Chief Executive Officer Paul Thompson. "Our communities need strong leadership, and the Youth Tour is one way we can help prepare students for the roles they may one day fill."
The Washington Youth Tour was inspired by President Lyndon B. Johnson in 1957 when he encouraged electric cooperatives to send young people to the nation's capital. Since then, more than 6,000 young Tennesseans have participated in the Washington Youth Tour as delegates.
Photo: Left to Right: Tammy Marlow, Red Boiling Springs Teacher; Anna Grace Blythe, Metcalfe County High School; Bailey Massengille, Red Boiling Springs High School; and Lindsay Wilkinson, Tri-County Electric Marketing Assistant.
Two $1,000 scholarships were also awarded. 
Dalton Malmin, Trousdale County High School, $1,000 scholarship winner. Pictured (L-R) David Malmin, father, Lindsay Wilkinson, Marketing Assistant, Dalton Malmin, Paul Thompson, CEO.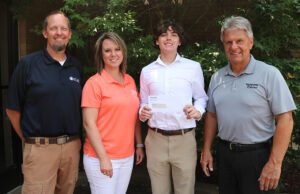 Lance Willen, Cumberland County High School, $1,000 scholarship winner. Pictured (L-R) Lindsay Wilkinson, Marketing Assistant, Lance Willen, Paul Thompson, CEO.