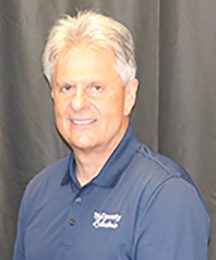 From the desk of Paul Thompson, Chief Executive Officer
Please join us at our Lafayette office located at 405 College Street Lafayette, Tennessee, on Thursday, May 4, 2023, for Tri-County Electric's Annual Meeting. Rural electric cooperatives meet with their member-owners on an annual basis to report on the activities of the cooperative. We will provide free refreshments, distribute a financial report, and provide a registration gift to each member-owner. One lucky member's name will be drawn to receive $100 at the beginning the business meeting, scheduled to begin at noon. Additional door prizes will be drawn from members who register between 11:00 a.m. – 1:00 p.m.
To allow greater participation from our member-owners, Tri-County Electric will be holding Member Appreciation  Days in all ten Board Districts again this year. Each of these meetings will follow a similar format to the May 4 Annual Meeting. Members can stop by between the hours of 11:00 a.m. – 1:00 p.m. to meet with employees, management and Directors. Door prizes will be awarded at each event. Please see the below schedule of Member Appreciation Days.
If you are unable to attend, I hope you realize that as a member you are an owner of Tri-County Electric. Make plans now to join next year's annual meeting, or Member Appreciation Day, so you know what is happening in your cooperative.
Once again, I invite you to join us at the Tri-County Electric's office located at 405 College Street, Lafayette, Tennessee, on Thursday May 4. The doors will open at 11:00 a.m. and our business meeting will begin at noon. We look forward to seeing each of you at this meeting or the Member Appreciation  Day when we come to your community!
Member Appreciation Days (11:00 a.m. – 1:00 p.m. at each location)
Thursday, April 13         Tri-County Electric Office              Celina, Tennessee
Thursday, April 13          Tri-County Electric Office              Tompkinsville, Kentucky
Tuesday, April 18            Tri-County Electric Office              Burkesville, Kentucky
Tuesday, April 18            Tri-County Electric Office              Edmonton, Kentucky
Thursday, April 20          Tri-County Electric Office              Hartsville, Tennessee
Thursday, April 20          Tri-County Electric Office              Westmoreland, Tennessee
Tuesday, April 25             Ft. Run Community Center            Fountain Run, Kentucky
Tuesday, April 25             Red Boiling Springs Fire Hall         Red Boiling Springs, Tennessee
Tuesday, May 2                Tri-County Electric Office              Scottsville, Kentucky
*Thursday, May 4            Tri-County Electric Office              Lafayette, Tennessee
*Official Annual Meeting begins at Noon